Episodes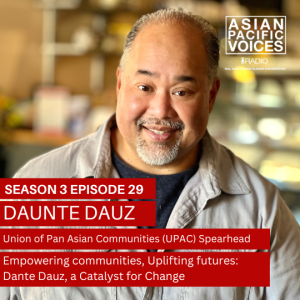 Tuesday Sep 05, 2023
Tuesday Sep 05, 2023
Dante Dauz was born and raised in San Diego and developed and implemented numerous community engagement and empowerment programs with the Union of Pan Asian Communities (UPAC) throughout San Diego for 13 years. Programs included: community violence response, victim support, gang prevention, homeless advocacy, youth mentorship, employment, and business development for individuals with serious mental illness. Over the last 5 years, Dante spearheaded the development of a community center and social enterprise called "UPAC
Neighborhood Enterprise Center" (NEC) that focuses on advancing diversity, building neighborhood unity, and developing youth leaders. NEC's focus is providing training and employment for disadvantaged youth in City Heights and Southeast San Diego through its café,
catering company, and print shop/graphic design operations; more importantly, youth are trained to lead and supervise numerous community impact programs. Dante is currently working on two
other social enterprise programs. One will be located in downtown that will train and employ homeless youth and modeled after NEC. The other will be coffee kiosk operations that will employ youth on probation. Another unique project is the development of a "cultural" food
distribution program. These new ventures have potential to impact and employ up to 150 youth within the next year. Dante has been a well-respected and reliable community advocate for 25 years and earned a reputation of being at the front-line of serious matters that impact the
community. Prior to joining UPAC, he was a successful probation officer, business owner, and community advocate. He is the recipient of several awards including: Probation Officer of the Year, Restaurant of the Year, Peacemaker of the Year, and recently named the Anthony Medina
People's Champion. He received his Bachelor's Degree from San Diego State University in Criminal Justice and his Juris Doctorate and Certificate in Global Legal Studies from Thomas Jefferson School of Law.